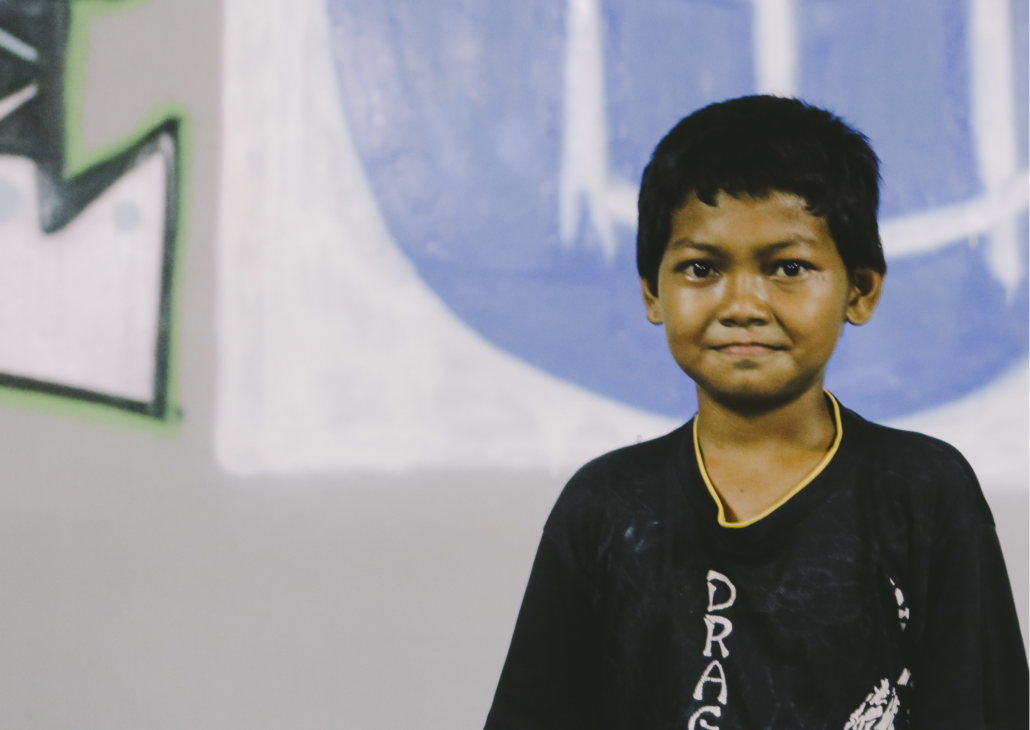 Komang's Story
When Komang first came to AK about a-year-and- a-half ago he joined a jiu jitsu classes and was lacking in confidence. The first time he came to class, while the other kids were pulling down gis and putting them on, Komang stood back and looked baffled. Geoff Collins, the Akademi Kristus Coach, helped Komang into a gi and they began the class.
It was initially quite frustrating to teach Komang, Geoff would demonstrate a technique and ask if there were any questions, then the class would split into pairs to practice what had been shown. Komang would sit, ready to do the technique but would not move. Geoff would coach him through step by step, while Komang repeatedly expressed 'I can't do it, I can't do it'.
Before long, Komang gave up on jiu jitsu and instead joined the arts and crafts and English classes run by Erma Collins. At 12-years-old he was the oldest student and he looked a bit out of place sitting on the small plastic chairs. It didn't take long for Erma to question if Komang was ok and to notice that he had no confidence. Gently Geoff and Erma spoke with Komang to find out his story. Komang should be in grade three or four but he had never been to school. Komang was illiterate and his lack of confidence stemmed from there.
With a lot of encouragement Erma began to teach him to read and write. Several months later, Akademi Kristus facilitated the enrolment of six students in a private school on a sponsorship program. The school guarantees that students will remain there from grade one to grade six and they provide free uniforms, books, snacks, lunches and a drop-off and pick-up service.
Geoff and Erma arranged with the parents to enrol their child and set a date for everyone to visit the school. They picked up five of the kids and their parents on the day, Komang and his mum were last. When they arrived at their home, Komang was hiding under the bed. It took 30 minutes and a lot of coaxing to get him to visit the school.
When the kids arrived at the school they thought they were at Disneyland. The school has multiple playgrounds, a swimming pool, library, toilets and air conditioners in every class, the children were very excited to begin their education.
All of the students were enrolled in grade one, Komang still looks a bit out of place, being several years older and much taller than all of his class mates, but Komang has come alive. The opportunity to go to school, as all kids deserve, has brought out the best in him.
After just 3 days of school, when the kids came to AK for their regular class, Erma said 'Wow, they have changed, there is much less fighting'. Now, several weeks on, Komang is a new man. He greets people with confidence. He holds his head high. The team at Akademi Kristus can't help smiling when we think of the future all six of these kids have now and how different it would have been if AK hadn't been there, changing lives and bringing hope.
https://www.akademi-kristus.org/wp-content/uploads/2017/09/komang.png
1435
2024
chris
https://www.akademi-kristus.org/wp-content/uploads/2015/10/Akademi-Kristus-Logo-No-byline-300x93.png
chris
2017-09-15 07:27:56
2017-09-15 07:46:08
Komang's Story

Akademi Kristus (AK) recently took part in a major grappling tournament in Surabaya. AK founder and director Geoff Collins describes the experience. AK recently sent competitors to the annual Super Grappler tournament in Surabaya. The opportunity not only motivated competitors and AK students Theja and Kadek to train harder, but has spurred everyone at AK on […]
https://www.akademi-kristus.org/wp-content/uploads/2017/07/image0152.jpg
720
960
Stephanie Chan
https://www.akademi-kristus.org/wp-content/uploads/2015/10/Akademi-Kristus-Logo-No-byline-300x93.png
Stephanie Chan
2017-07-17 02:45:19
2017-09-15 07:40:13
AK at Super Grappler 2017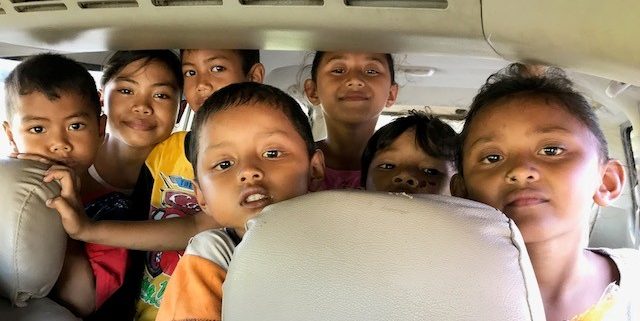 The tiles are cool. A stark comparison to the sweltering, humid stillness of the air outside.
I lower myself to the ground and quietly take in my surroundings, much further outside my comfort zone that I've ever been before.
It's heartbreakingly basic.
Two rooms, a porch and an outdoor kitchen on a dirt floor.
With proper walls, a floor and a roof, this family is fortunate compared to most.
From the dubious comfort of a thin mattress on the ground an older man reaches for my hand.
He'd get up to greet me, but a recent stroke has left his body paralysed.
A proud man, the head of a household, robbed of his ability to work and provide for his family.
Starvation is mentioned, and I'm so confronted that I can't make sense of the jumbled thoughts in my head.
In the heart of a Balinese slum, I experience the most humbling moment of my life.
I kneel beside this man, a privileged westerner having the time of her life on a holiday in Bali, and he softly asks me to pray for him.
He wants to work. He doesn't want his family to starve. There's no government assistance and prayer is his only option.
My heart shatters into a million pieces.
Choking back tears I pray for healing, that God would bless this man and his family and restore his health.
The whole time I'm grappling with guilt – I don't deserve the comfortable life I was fortunate to be born into any more than this man and his family. Why me? Why them?
I join Akademi Kristus director Geoff Collins on a walk through the rest of the slum.
The land itself is picturesque and lush.
Worn paths lead to each family home, open dirt-floored structures built with easy-to-find materials.
There's no electricity or running water.
When it rains, they get wet.
When it floods, they get wetter.
Goats wander around looking for food, and family members mill about chopping vegetables, holding babies, and boiling water over a fire.
A toddler sits out in the open in a bucket, having a bath.
Children run about playing, happy and carefree despite their poverty.
As Geoff chats and jokes in fluent Indonesian I watch on, questions circling in my mind.
How do you raise a family without electricity? Without walls? Without running water? Without proper beds? Without a washing machine? Without a car? Without doors that lock for safety?
Making do without. It's not a concept I'm familiar with.
But these people survive.
At Akademi Kristus, we also want them to thrive.
I became a member of the AK project management team in 2016.
Having studied Indonesian at university, and with media skills that could be put to good use, it seemed like the perfect charity to get involved in.
I always believed in our mission – to foster hope and empower Indonesian communities through real relationships and the delivery of martial arts, education and creative arts.
But after spending times in those slums, and meeting the kids and the families we're working with?
Our mission is now a part of me in a way that it wasn't before.
These families don't need my guilt, or even my sympathy. They need my action.
A short drive away from the slums (referred to as the kampung or local village), in a van loaded with kids we picked up on our walk, is the AK community hub.
A place where everyone is welcome, accepted, encouraged and offered opportunities to learn.
I have the pleasure of assisting Geoff's wife Erma with an art class while Geoff is instructing a gruelling BJJ session on the mat nearby.
Back at the kampung a specialist educator arrives to spend time teaching AK's students with disabilities.
These youth aren't mobile and are therefore confined to their homes in the slum, often left alone without stimulation or care during the day while family members work.
Thrown in the deep end, it's an exhausting but amazing afternoon.
That's kind of how Geoff, Erma and their three wonderful daughters do everything.
All in, flat out, crazy, selfless, fun and full of love.
It's inspirational to watch, and humbling to be part of.
With all my heart I believe the encouragement, leadership, self-worth, skills and confidence these kids gain from attending AK will one day empower them out of the cycle of poverty.
To me, that's a mission worth supporting.
https://www.akademi-kristus.org/wp-content/uploads/2017/06/For-blog-post.jpg
480
640
Kim Waters
https://www.akademi-kristus.org/wp-content/uploads/2015/10/Akademi-Kristus-Logo-No-byline-300x93.png
Kim Waters
2017-06-22 11:35:10
2017-09-15 07:40:13
Visitor report: Kimberley Waters